Guaranteed high performance even in harsh environments - Available from ECS.
The AQM award by TÜV Rheinland China
As the world's leading technology and service provider with over 40 years of experience in the photovoltaic industry, TÜV Rheinland tests and certifies technical components for safety, reliability, and durability. For nine consecutive years, the organisation has hosted the AQM Solar & ESS Congress "All Quality Matters" in China with awards in various categories.
The AQM Award is recognised for its objective and credible evaluation process and authoritative neutral selection mechanism. The samples to be tested are randomly selected from mass production. In China, the largest photovoltaic component manufacturing country, the AQM Award is the most prestigious industry award. The country's component production accounts for about 71% of the world's total capacity.
Stäubli, the leading provider of innovative and reliable connectivity solutions, is proud to announce that its original MC4-Evo 2 PV DC connector passed the testing procedure for the award with distinction as the best product in the category PV connector.
The performance tests included:
Thermal shock
Weather resistance test, cold impact test, IP protection and dielectric strength
Lower temperature test, dry heat test, IP protection and dielectric strength
Temperature rise test, bending test, IP protection and dielectric strength
Stäubli connectors offer an impressive track record, connecting over 615 GW globally – more than half the world's cumulative PV capacity. Active in the Solar PV industry since the beginning, Stäubli has set the benchmark for pluggable PV connectors and has taken a leading position with its safe and efficient Original MC4 product portfolio.
The proven quality of the Stäubli eBOS components along the whole electrical PV supply chain guarantees reliable operation throughout their lifetime for more than 25 years. The long-lasting quality components help to reduce operational and maintenance costs and increase the bankability of a project.
Article Sourced From: https://www.staubli.com/global/en/news/AQM-award.html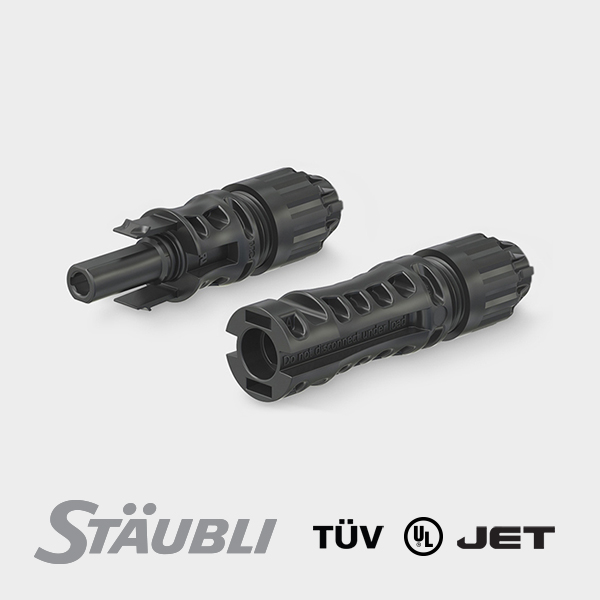 The Original MC4-Evo 2, best-in-class features for DC PV Connectors.
The original MC4-Evo 2 guarantees high performance even in harsh environment and combines best-in-class features for DC PV connectors such as:
DC 1500 V certified (TUV / UL / JET)
Maximum current rating 69A
Salt mist spray test & ammonia resistant